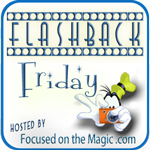 Going back now to May 2004, this was a year after I had left my internship with Disney World. My friends and I wanted to go back down to Disney for ten days and have some fun. One of my friends had called for us all to have breakfast at the Polynesian with the Characters one morning. We were 7 people. I had never been to a character breakfast and after this one, I am surprised that I will go to them. Here is my story...
It was a warm morning when we left for the character breakfast at the Polynesian. I was nervous for I didn't know what this was going to be like...I had only heard of them. My friends and I were given a table in the middle and I was so impressed with the food. IT just kept coming...mini mickey waffles, eggs, bacon, fresh fruit and more. Everything was sooo yummy. I loved all the breakfast items.
Soon each character came to our table. First we meet Minnie, she was wonderful. She took a picture with us and signed my book. Then Chip and Dale came over and took pictures with us as well. But then Goofy came over. He was petting my head, took a picture with us and stayed for awhile. He stayed the longest with us, playing around and being silly. He just didn't want to leave us it seemed, and then I think he knew he had to move on. But then Music came on and this is when the fun really started happening....
I was taken by Goofy, by surprise, and dragged onto the floor. The music was playing and a lady's voice was heard saying, "ALL CHILDREN COME AND DANCE!" Wait, I wasn't a kid, so I tried to pull away from Goofy but he wouldn't let me go. He had my hand in a tight grip! I tried to just smile, as me and 40 children danced around ...well..I think I saw a mom in the mix as well which was nice. Goofy just kept me dancing and I was so red in the face. I didn't know what to do! Then when the music stopped, I thought he would let me go, but NO...he had me going around to tables with him. He had me touch a bald guy's head...what was Goofy thinking! Finally, I saw a moment where I pulled away and got back to my seat. My friends were laughing, some were crying. I was still in shock. Still Goofy came by our table again. At least no music came back on!
Let's just say that this is a character dining experience I will never forget thanks to Goofy and his goofiness!