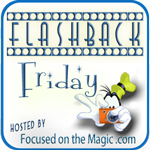 Deb from Focused on the Magic is the host for Flashback Fridays. If you would like to see more Flashbacks from others, you can go to her page and check them out!
I have always loved "A Bugs Life" and when I went to Disneyland back in 1999, I got to be part of a skit onstage in front of the guests. A Bug's Life came out in 1998 so it was still "NEW" when I had visited Disneyland. I was picked with one other person, we had to be bugs if I remember right. It was funny and I had enjoyed myself. Here is a picture of the two of us listening to the Disneyland Cast member on what we had to do in front of everyone!
I hope everyone has a Magical Day!