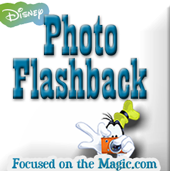 Today is a very special day for its the day that Goofy came into the World in Mickey's Revue back in 1932. So, today marks Goofy's 80th Birthday! If you have loved Goofy as much as I have through the years, give him a shout out today!
So, today I wanted to flash back to some of my favorite moments with my pal Goofy!
Have a Magical Day and HAPPY BIRTHDAY GOOFY! We all love you!
Hanging Out with Goofy at the Character Breakfast at the Polynesian Resort
Goofy pulling me out of the crowd and getting me to dance back in 2004
First time I saw this Goofy back in 2003, I didn't know he talked until I was working
late at night on Main Street USA and kept hearing his voice.
No one was around and I kept looking for Goofy!
It took awhile until I realized it was THIS statue Goofy speaking!
Goofy making fun of my Dad at our table because we left him all alone
at Chef Mickey to get our food. Goofy was having a so
much fun playing around with my dad back in 2009!
HAPPY BIRTHDAY GOOFY! THANKS FOR BEING
THE GOOFBALL THAT YOU ARE!
THE WORLD IS A MUCH HAPPIER PLACE WITH YOU IN IT!