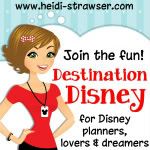 This is week 9 of Disney Destination and this week Heidi's Head wants us to list our two Top Disney memories. This is a tough one for I have had so many wonderful Disney memories over the years. But after thinking about this topic for a few minutes, I have decided on these two:
Number 2 : When I took my stepson down to Disney, I wanted him to have an experience like no other! It was his first time and he was seven years old! He was excited, full of energy and ready for all the excitement and rides! There is a section on Main Street that hides a Barber Shop called Harmony. I asked him if he would like to get his hair cut at Disney. He loved the idea! So, we went into the shop and after waiting about 30 minutes, it was his turn. The man asked him what color he would like to have in his hair...my stepson said he liked blue! After he hair was done...color in it and everything...the man through pixie dust in his hair! My stepson's eyes got so big! He was shocked...only girls get glitter in their hair according to him! He was nervous to leave the place because other people could see him with glitter in his hair....but after awhile, he got over it! I think it was all the compliments he got the rest of the day for everyone who saw his hair loved it! I loved seeing him so happy and having fun!
This was his hair after the haircut at Harmony!


Number 1 : My honeymoon at Disney World was a blast. Getting to spend time with just my husband was a great experience. I loved just hanging out at the Resort with him and walking along the beach. We enjoyed ourselves and got to experience more of the grownup fun at Disney. We watched some shows and went on a Disney tour called Keys to the Kingdom. I was great to show him some of the behind scenes of Magic Kingdom, since I had worked there back in 2003. I have to say that it was a wonderful trip and my favorite!
My husband and I at MK, on our honeymoon of May 2010




Thanks for stopping by! Have a Magical Day!:)