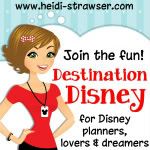 This week's topic is our top three Disney resorts which was liked by Heidi's Head. I just love staying on Disney Property. I have to say that it is hard to pick just three of the Resorts, they are all so unique and well themed. Here are my top three favorites...
1. Polynesian Resort : Love the feeling of Being in a Topical Relaxing Resort while staying on Disney Property.
The building we stayed in at Polynesian


The landscape




2. My second pick would have to be Animal Kingdom Lodge. I loved waking up to the animals right outside my window. The feeling of being in nature was wonderful. I can't wait to stay there again in the future:)
This is what I got to see outside my window


This was the room I stayed in look like




3. POP Century : Loved the theme, great for children, the pools were huge and the price was great!
The Pool


I got to see Lady every time I came back from the parks


These are my three picks, there are so many great Resorts at Walt Disney World that it's fun to pick a new one to stay in every time visiting! Have a Magical Day:)