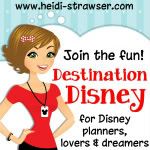 This week is NUMBER ONE FAVORITE PARK...
As a child, I would have said Disney's Hollywood Studios, but now as an adult and haven worked at Walt Disney World, I would have to say that Magic Kingdom is my top favorite park. This was the park that I was asked to work at when I was in the college program and I was so excited to be placed there.
I got to work in Liberty Square, in the gift shops and also the Haunted Mansion Cart. While working, I started to enjoy everything that Magic Kingdom had to offer and explored that park the most. I would hang out after work...
Here are some wonderful reasons I love Magic Kingdom:
Magic Kingdom's Icon : Cinderella's Castle
Reason One: MK has all three amazing Mountains...Splash, Thunder and Space!
Reason Two: WISHES! I love the fireworks
Reason Three: Walking down Main Street USA and seeing the castle
Reason Four: Main Street Electrical Parade...best parade after dark!
Reason Five: Infamous Dole Whip which is a soft-serve ice cream with a tropical twist..and so yummy!
Reason Six: Not being afraid of the Haunted Mansion anymore and enjoying it now!
Reason Seven: The memories that have been made at this park over the years
Reason Eight: Has all my Favorite Lands! Adventure, Fantasy, Tomorrow, Frontier
Reason Nine: Seeing Mickey Mouse and the gang at the beginning of the day when the park opens!
Reason Ten: getting to see the look on my stepson's face when he walked into MK for the first time
Ten Reasons for One Great Park that I will always treasure with all my heart. It's like my second home and where I feel, helped me grow to the person I am today.
Will always love Magic Kingdom! Have a Magical Day:)