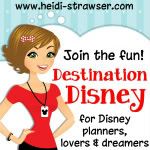 My family and I just love shopping at Walt Disney World. I will go through many shops and store at the parks and Downtown Disney looking for great Disney items for home. It's always important to think about taking extra money with you on a Disney trip for you will always find something to pick up and take home with you! ...here are my top four Disney Souvenirs!
1. My autograph books! I got one when I was 12 years old on my first trip to WDW and the other I got for the 24th Birthday. But hold great memories! These are great to get for kids and adults on Disney Trips!
2. This is my cup that I got when going to Spirit of Aloha at Polynesian Resort at WDW. I love having a drink in it when relaxing at home. It's fun to get a Disney Souvenirs when seeing a Disney show!
3. The small limited edition suitcase was my 24th B-day gift to myself. It cost around $100.00 and bought at Magic Kingdom. When I asked why the suitcase cost so much the cast member replied, $50 dollars for the suitcase and $50 dollars for Mickey on the suitcase." ...sounds about right!
4. This limited edition mickey hoodie that I got at Magic Kingdom. I love when Disney comes out with fun hoodies that I can wear to work (work at a Boys and Girls Club). Everyone just loves Mickey!
Have a Magical Day:)