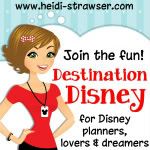 This week at Heidi's Head, she picked for the DD Topic - Top SIX Disney Restaurants. I enjoy all the food that Disney has to offer but there are a few places that are always on the top of my list when I travel to see the mouse. Here are my Top six places that are a MUST to eat at, Walt Disney World.
1. Earl Of Sandwich : Location is Marketplace : Food is mostly yummy sandwiches. Great part is that these delicious sandwiches are not to pricy and won't burn a whole in your pocket. You will leave feeling full and wishing for another sandwich...I love all their choices and everyone is so friendly!
2. Columbia Harbour House : Location is Magic Kingdom : Love seafood? Then this is the place to eat at when traveling through MK! ..they also have a vegetarian option as well. I love the clam chowder and if you want to get away from the crowds, eating upstairs is always a great quite spot. I once ate there while Prince Harry of England was visiting...he seemed to enjoy that restaurant as well!
Spirit of Aloha
3. Spirit of Aloha Dinner Show : Location is Polynesian : Will have to make a reservation. Great food, loved everything that was served that night, drink were amazing and got to keep the souvenir drinking glasses. I also enjoyed being entertained. Plus it was our honeymoon so we got to go up and slow dance which was so romantic. It was a wonderful time, something you don't want to miss!
4. Tutto Italia : Location is Epcot : love pasta? Ever wanted to go to Italy? ...then here is a restaurant for you at Epcot in the World Showcase. Everyone Fresh and yummy. I just loved the pasta and I felt like I was right in Italy...or in the movie Lady and the Tramp...I just wanted to start singing "Bella Notte"!
Boma
5. Boma : Location is Animal Kingdom : Loved the African style Buffet. I can't even count how many times I went up for the food. The staff was friendly and talk with us a lot at our table. Enjoyed the music as we walked in, plus it was fun to be the first to get seated. Reservations are required.
6. 50's Prime Time Cafe : Location is Disney's Hollywood Studios : Miss your mom serving you a meal? Here is a great place to bring back some fond memories. This takes you back to the 50s where the "moms" were a little "tough" at the dinner table, so you better eat all your dinner (even the vegs) and keep your elbows off the table. If you are good and eat your meal..you can have dessert...YAY! I ate all my meal and got a huge sundae:) Great place to eat for everyone! Reservations are recommended.
Hope you enjoyed the list ...check out some other lists at Heidi's Head! Have a Magical weekend!