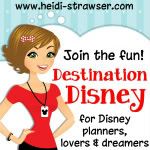 MY "7 Favorite Things to do OUTSIDE the Parks" which is hosted by Heidi. She is doing ten weeks of Topic List. This is the 4th week. So here are my picks for "7 favorite things to do outside the parks"
1. Spirit of Aloha: This amazing show and sit down meal is at the Polynesian Resort. This is a show of dancing, singing and fire spinning entertainment you don't want to miss!
2. DisneyQuest: This is an indoor theme Disney Park at Downtown Disney. It is a place you will get to make your own roller coaster and then get to ride it! I think I built a few and tried each one. Five floors to explore so stop in when you get the chance!
3. Characters in Flight: This is also located at Downtown Disney. This huge balloon will take you 400 feet up into the air and you can see 360 degrees around Walt Disney World.
4.JellyRolls: Love to sing-along? Have a good time singing along to dueling pianos. This is one great place to hang out at and you will hear everything. You can even write a request! Lots of fun so come and join the fun! YOu can find this great place on BoardWalk.
5. Summit Plummet: This awesome ride is at Blizzard Beach and it's a Thrill Ride! It starts 120 feet in the air and you will travel 6o miles as hour. I have done this ride and it's worth the rush! So, if you headed to BB, and love a good thrill ...check out this ride!
6. Animal Kingdom Lodge: Even when I am not staying at the lodge, I always seem to find myself traveling over to visit it. There are animals all around the resort and the restaurant Boma is amazing.
7. Marketplace: this is a section at Downtown Disney that you don't want to miss. Great Disney Shopping, lots of places to eat and surprises around every corner. I can spend a whole day here when I travel to Disney World and just on this side of DD alone.
Thanks for stopping by and have a Magical Day!